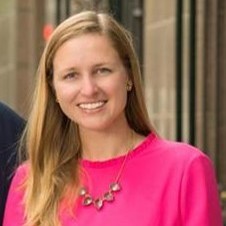 Director, Commerce Trust Bank
Charlotte is the Director of Charitable Trusts and Foundations for the Commerce Trust Company, a division of Commerce Bank. In this role, she oversees discretionary grantmaking for several private foundations and charitable trusts, including the William T. Kemper Foundation, the Richard J. Stern Foundation for the Arts, and the Oppenstein Brothers Foundation. Charlotte joined Commerce Bank in 2015 as part of the Strategic Planning Office, leading several longer-term, cross-bank initiatives including ones around innovation and consumer strategy. Prior to joining Commerce, she worked in Equity Research for Fidelity Investments in Boston, and in Corporate Strategy for Northrop Grumman in the Washington, DC area. She also spent a summer with Wells Fargo's commercial bank in New York City. She has her MBA from Columbia University, and her AB in History & Literature from Harvard College.
She serves on the boards of the Truman Library Institute and the Kansas City Ballet, on the KC Rising Steering Committee, and on the KCUR 89.3 advisory board.