March 16, 2022
Leveraging the Wealth of the Crowd to Even the Playing Field for Heartland Startups 
Yee-Lin Lai and Jonny Price
It has been well-documented in many media articles that venture capital in the United States is concentrated in the holy trinity of the startup world, i.e., California, Massachusetts and New York. In 2020, these states comprised over 73 percent of venture funding in the nation. With these three superstar states skewing the levels of startup capital in the non-Heartland states, it was no surprise that a prior Heartland Forward blog entry observed an asymmetrical playing field in terms of startup capital between the Heartland and non-Heartland states.
However, startups located in the Heartland should not despair. Although venture capitalists are the typical providers of investment capital, they are not the sole resource. One other means of capital is equity crowdfunding, a platform that has been gaining traction since the Title III of the Jumpstart Our Business Startups (JOBS) Act went live in the United States in May 2016. Before the JOBS Act, non-accredited investors (i.e., individuals whose incomes were lower than $200,000 annually) were prohibited from investing in startups and private businesses. Title III of JOBS Act of 2012 permits startups to raise money from non-accredited investors publicly via equity crowdfunding.
From the time when the first equity crowdfunding portal went live in 2016, there has been continuous growth in investment capital raised via equity crowdfunding platforms, accumulating to over $514 million capital sourced for startups. In 2020, about $215 million was raised for 1,035 companies, more than 100 percent growth from 2019 where about $105 million was raised for 541 companies. During the pandemic-stricken 2020, each successful company raised an average of $275,000.
Equity crowdfunding may be an ideal vehicle to bridge the startup capital deficiency in the Heartland. By allowing entrepreneurs in the Heartland to connect with and obtain capital from investors anywhere via a digital platform, equity crowdfunding eliminates the geographic constraint that has encumbered entrepreneurs in the Heartland – where they are located further from the coastal innovation epicenters that venture capitalists prefer, as compared to their many non-Heartland counterparts.
Analyses of venture capital data from 2016 to 2020 [data source: Pitchbook] demonstrated that the Heartland has received only about 10 percent of venture capital investment since 2016. Wefunder, an equity crowdsourcing platform which has the majority market share in the United States, shows that about 20 percent of its investment volume (i.e., twice as much) went to Heartland states during the same time period.
On average, the ratio of traditional venture capital received by a Heartland state to that received by a non-Heartland state is about 0.17. This implies that a Heartland state receives a little less than one-fifth of the venture capital awarded in a non-Heartland state. In studying 2016 to 2020 data from Wefunder, the inequality between the Heartland and non-Heartland regions is ostensibly reduced. On average, the ratio of venture capital received by a Heartland state to that received by a non-Heartland state via the Wefunder platform is about 0.34 – twice as much as the traditional venture capital sources. On the Wefunder equity crowdsourcing platform, a Heartland state receives over a third of the venture capital awarded in a non-Heartland state.
Also noteworthy is the stark increase in the ratio of Heartland to non-Heartland venture capital raised in 2020 via the Wefunder platform, which is in contrast to the general venture capital investment trend which has remained relatively stagnant from 2016 to 2020 [See graph below]. Overall in 2020, the ratio of average venture capital raised in the Heartland as compared to the non-Heartland was 0.18. Comparatively, the ratio of average venture capital raised via Wefunder in the Heartland as compared to the non-Heartland was 0.53 – almost three times that of traditional venture capital.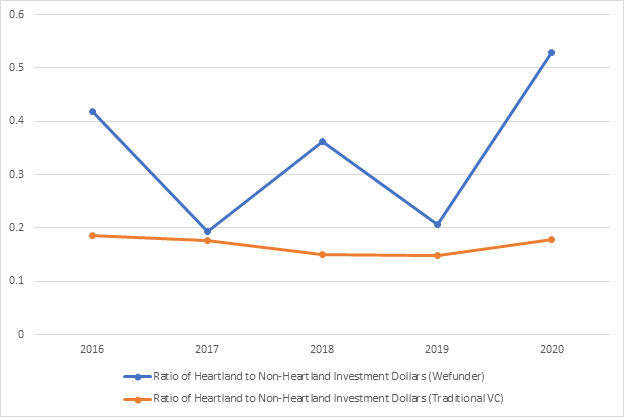 The pandemic may have accelerated the adoption of equity crowdsourcing platforms, with travel restrictions and conservative venture capital bets leading the Heartland entrepreneurs and founders to turn to equity crowdsourcing as a new way to raise capital.
Nevertheless, approximately 35 percent of the Heartland states have not raised any capital via the Wefunder equity crowdsourcing platform in the past five years. They may be leveraging other equity crowdsourcing platforms, or entirely missing out on this emerging source of startup capital. These regions should consider implementing education efforts to entrepreneurs to increase awareness and knowledge of these platforms as a potential source of startup capital, as well as to prospective investors who may want to acquaint themselves with knowhow in startup investing. In addition, technical assistance and mentorship in navigating the equity crowdsourcing platforms could also aid entrepreneurs who do not have experience in this space.
In late 2020, the U.S. Securities and Exchange Commission increased the campaign limit from $1.07 million to $5 million, making equity crowdsourcing platforms potentially more appealing to entrepreneurs who want to raise a larger amount. In addition, data has also recorded a 75 percent increase of investors in 2020 from 2019 – equivalent of 150,000 investors – participating in equity crowdsourcing. As the equity crowdsourcing platforms achieve momentum with potential investors and regulations enhance the appeal of such platforms with higher campaign caps and reduced paperwork, perhaps they are the vehicle for the Heartland entrepreneurs desiring to access more venture capital.
Yee-Lin Lai is a Heartland Forward Fellow and Home Region Senior Program Officer at Walton Family Foundation.
Jonny Price is the Vice-President of Fundraising at Wefunder.